On Friday 31 August we celebrated our third Starts at Home day. Hundreds of housing association staff and tenants joined the campaign to showcase the value of supported housing, and celebrate the news that we have secure future funding for this services.
We'd like to thank everyone for their hard work in 2018, engaging with MPs on the vital issue of supported housing and championing these great services.
Going forward, we plan to keep supported housing in the spotlight, and you can get involved with this in three main ways.
1. Save the date for next year: 30 August 2019
We're already looking forward to Starts at Home Day next year, so much so that we've set the date already. So put 30 August 2019 in your diary and sign up for campaign updates (bottom of this page) to hear more about our plans for the next Starts at Home Day.
2. Let us know about your new schemes
Lots of our members have been in touch to let us know that, due to the funding certainty we now have, they plan to develop new supported housing schemes.
We want to hear about these schemes, so if you have new supported housing or sheltered schemes in the pipeline, or are about to open the doors on a fantastic new development, let us know.
3. Keep using the campaign resources
The Starts at Home campaign has shown us that there is huge value in taking the time to explain what supported housing is, and showcase its positive impact on thousands of lives. We urge you to keep this up.
Send us your stories so we can highlight what it means to people.
Order a free supporter board for your upcoming events.
Share the social media graphics below to highlight the services you provide – don't forget to include the hashtag #startsathome.
Social media graphics
Create a poster to share on social media using the hashtag #startsathome.
Click one of the thumbnails below to download the full size image, then share it on social media using the hashtag #startsathome.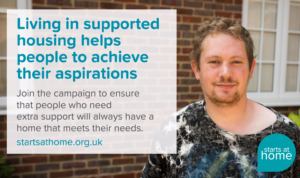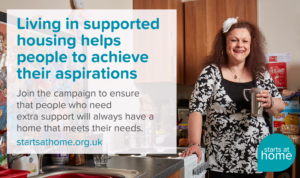 Click the thumbnail below to get the Twitter header image and add it to your Twitter profile.