John Pierce is the Campaigns Manager at the National Housing Federation.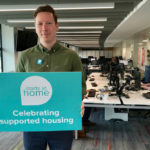 Back in 2015, the Government had announced it was changing the way support housing was funded. I remember sitting in a meeting at the National Housing Federation hearing how the proposals would impact our members. Worst of all their residents, some of the most vulnerable people in society, those who have been homeless, people fleeing domestic violence, war veterans and people with disabilities. It was truly shocking.
The default position of many campaigning organisations would be to run to the national media to highlight the social costs of the Government's proposal. It would have been easy to show how the proposals would lead to thousands more homeless people on the streets or hundreds of services closing across the country.
However, this adversarial campaigning approach didn't work in our campaigning to stop the Bedroom Tax and we believed that it wasn't going to work for this. Also, our members didn't want to highlight schemes at risk of closure, given the vulnerability of the people affected.
We needed to do something different, something very different.
We needed a campaign that would get support from across the political parties.
From day one, we wanted to co-create this new campaign with housing associations across the country. The Federation then went out and started visiting supported housing schemes to see the services first hand. We ran a series of workshops with our members, which looked at how they described supported housing and what it meant for their organisation. Most importantly, we looked at what they could do collectively to raise the profile of supported housing and to engage with their local MPs.
We gained two vital insights from our workshops to help us create our new campaign:
Supported housing is not care. While care is a permanent form of support for people, supported housing helps people back into independence while offering a secure home. Explaining this would help end some of the confusion around what supported housing is.
Each housing association could tell the story of the people who had their lives transformed by their services. We hoped these stories were powerful enough to persuade people to champion supported housing.
With these insights, we knew that our campaign should celebrate supported housing and tell the story of supported housing residents.
We also began to have conversations about the reality of the proposals with the Government officials through our lobbying work at the Federation.
We needed to create a moment for supported housing. A national day to celebrate it and to advocate for it. We needed to make sure politicians understood the value of supported housing and how it helped their most vulnerable constituents.
That's how Starts at Home Day was created. And three years later, the Government dropped its proposals.
The national campaign now takes place every year on the last Friday of August, because we want to ensure that supported housing is fresh in the minds of MPs as they return to Parliament. And Starts at Home Day keeps growing, celebrating and advocating for supported housing and now, to persuade the Government to invest in the support people need to thrive.
Find out how you can show your support.