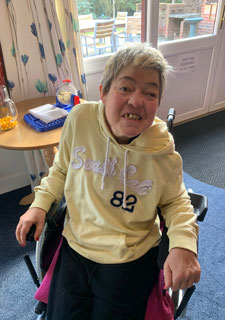 As well as physical disabilities, I also live with learning disabilities, and attended a specialist school in Suffolk before moving to boarding school in London. Following this, I moved back to supported housing in Bury St Edmunds and then moved on to Hilltop House in January 2017.
My social worker told me how Hilltop House met her 'Mum Test' – it's warm, friendly and she'd be happy for one of her loved ones to live here. And she was right.
It's made all the difference to me as I've also achieved a personal goal of being reconciled with my family. I hadn't seen my parents in 20 years, and I was supported to reunite with them back in February – it was amazing.
I'm also encouraged to further my development, and I take part in staff training, becoming the service's manual handling champion.
If not for supported housing, I would have been isolated, still living without my parents, probably in a care home. I really value my independence so having to sacrifice that would have been devastating.
What does supported housing mean to me? Everything. I'm able to have my own space and have control over my choices, which is really important to me. I also have an input into the running of the service and my opinion is valued, which is a real boost to my self-esteem.
Moreover, I've been reunited with my parents, which means the absolute world.