Francis has been with Quo Vadis Trust since May 2016 and is currently living at our 24 hour supported scheme (Verdant Lane).
Francis volunteers regularly for the trust. Francis has a level 1 qualification in food hygiene and safety and he enjoys putting this to use by hosting and cooking for our client's barbeques and Sunday's lunch. Francis loves the outdoors, he's always in the garden looking after his plants and growing vegetables which he shares among the other clients.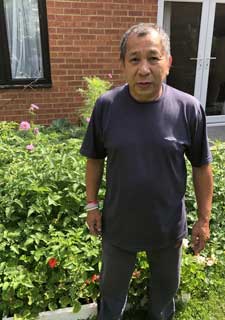 Francis says that moving into 24 hour supported accommodation helped him to gain his life back so that he can become stable again. He says being in supported housing is like having a family. He can talk to his housemates if he gets lonely and the staff are always there to help and support him. Francis says that before coming into supported housing he would turn to alcohol to try and take away his pain and to silence the voices in his head. His low mood would then lead him to self-harm regularly and even overdose on pharmaceutical drugs, which were the reasons he was sectioned.
Francis says that since being in supported housing he has become calmer due to the support from the staff and also engaging with different types of activities taking place in the scheme keeps him busy. Staff help him to access services for drugs and alcohol abuse. He didn't have any family or friends and now he has a social life that makes him feel blessed.
He says without supported housing he would be living on the streets or worse, he would have overdosed because he wouldn't be able to cope on his own. He wouldn't have grown the way he has in the last three and a half years if it wasn't for supported housing.
Supported housing means getting his life back on track, independence, but at the same time getting a helping hand when needed and most importantly regaining his confidence.
"Being at Verdant Lane, I know that I am safe and secure."