Blog by Laura McCready, Marketing and PR Co-ordinator at Trent & Dove Housing
Trent & Dove Housing is a housing association based in Burton on Trent in East Staffordshire and we own just over 6,000 homes. Our customers stretch from East Staffordshire, South Derbyshire and North West Leicestershire and amongst our properties we have four sheltered housing / extra care schemes for people aged over 55. My role is to manage our social media platforms, organise Stakeholder events, write and distribute press articles, produce marketing literature and manage our internal communications.
Our sheltered housing schemes are better known as independent living schemes as our customers have their own front doors. The homes are all situated under one roof and offer security, independence and peace of mind, not only for our residents but for their families too. They can live as independently or as privately as they wish, knowing that there is help on hand from a Scheme Manager and a 24/7 alarm call system, should they need it. The schemes also offers a variety of communal activities such as coffee mornings, lunch clubs, quizzes and bingo, so there is plenty for our residents to get involved with.
When I first started at Trent & Dove in 2017, I was introduced to the Starts at Home campaign and one of my first stakeholder events was to organise a celebration of the day. I arranged a tea party at one of our extra care schemes, Chestnut Grange. The day was lovely and I captured some really great case studies from a few of the residents, who talked to me about why sheltered housing was important to them. They used phrases like 'peace of mind,' 'security' and 'friendships' and it was really wonderful to hear that they were so happy in their homes.
This year, I really wanted to celebrate Starts at Home in style and bring all of the schemes together under one roof. I wanted to provide them with entertainment and give them an afternoon to really enjoy, and I did just that.
Residents from our four schemes, Highwood Court, Elizabeth Court, Chestnut Grange and Dove Court, joined us on Friday 30 August for an afternoon of food, fun and laughter.
The event was hosted at Dove Court and was opened by our local MP Andrew Griffiths. Andrew spoke about the importance of our schemes and how they bring our residents together to prevent isolation and loneliness.
We were then treated to tea and coffee, a buffet and ice-creams. They also had the chance to look around some health and wellbeing stalls from Everyone Health, Staffordshire Fire and Rescue, Careline Calling and St Giles Hospice. Amongst the stalls we also held a Tombola, which raised an amazing £80 for our charity of the year, the Burton MS (Multiple Sclerosis) Society.
We were entertained by the wonderful Stacey Lynn, a local singer from Burton on Trent. Stacey sang classic vintage hits such as 'Don't Sit Under the Apple Tree', 'I Want To Be Loved By You' and 'Hit The Road Jack.' A few residents even got up to have a dance!
After the fantastic performance, we started to wind down and some residents took part in our general knowledge quiz. The winners were a group from Dove Court, who enjoyed a box of chocolates for their victory.
The Mayor and Mayoress and a few local councillors from East Staffordshire Borough Council were in attendance and were very complimentary about our scheme and the event, which was fantastic to hear.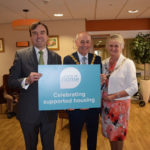 The day was a huge success and we have received many compliments from our residents who really enjoyed themselves! It also raised awareness of our fantastic schemes and brought everyone together to mingle and enjoy themselves.
I am very much looking forward to planning another successful event for next years' Starts at Home Day, a tradition that we will no doubt continue.